Fig. 1
Daybed (The Owner Series), 2019
Natural leather, wood, wood veneer, wall paint, text, high-density sponge, Monstera plant
25 SEPTEMBER - 15 NOVEMBER 2019
Curated by Sara El Adl - at Gypsum Gallery, Cairo
Basma Alsharif
Helene Kazan
Mahmoud Khaled
Neïl Beloufa
Samir El Kordy
Yazan El Zubi
A cooperation between Bonner Kunstverein, Kölnischer Kunstverein und Kunstverein für die Rheinlande und Westfalen, Düsseldorf
1 September – 24 November 2019
Artists: Vito Acconci, The Agency, Georgia Anderson & David Doherty & Morag Keil & Henry Stringer, Lutz Bacher, Louis Backhouse, Olga Balema, Lynda Benglis, Judith Bernstein, Gerry Bibby, Alexandra Bircken, Juliette Blightman, Patricia L. Boyd, Anders Clausen, Keren Cytter, Enrico David, Vaginal Davis, Jonathas de Andrade, Jimmy DeSana, Nicole Eisenman, Hedi El Kholti, Jana Euler, Hal Fischer, Andrea Fraser, keyon gaskin with Samiya Bashir, sidony o'neal and Adee Roberson, Eunice Golden, Philipp Gufler, Richard Hawkins, Jenny Holzer, Hudinilson Jr., Allison Katz, Annette Kennerley, Sister Corita Kent, Mahmoud Khaled, Jürgen Klauke, Jutta Koether, Tetsumi Kudo, Klara Lidén, Hilary Lloyd, Sarah Lucas, Robert Morris, Shahryar Nashat, D'Ette Nogle, Henrik Olesen, D.A. Pennebaker & Chris Hegedus, Josephine Pryde, Puppies Puppies (Jade Kuriki Olivo), Carol Rama, Lorenzo Sandoval, Julia Scher, Agnes Scherer, Bea Schlingelhoff, Heji Shin, Katharina Sieverding, Nancy Spero, Anita Steckel, Evelyn Taocheng Wang, Carrie Mae Weems, Marianne Wex, Martin Wong, Katharina Wulff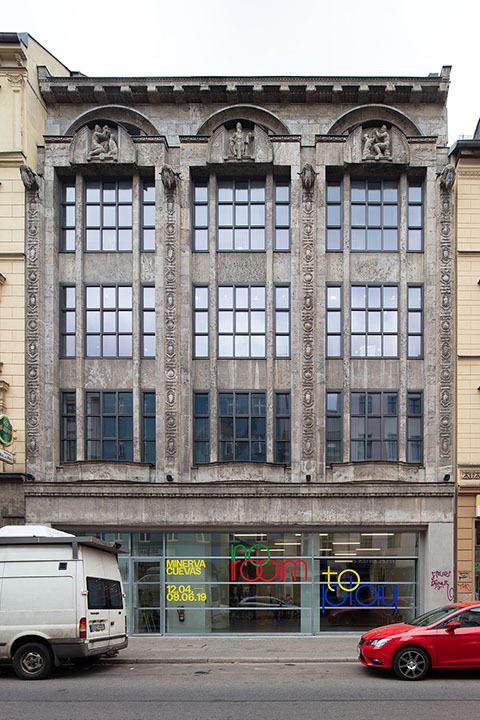 Guest of the DAAD Artists-in-Berlin Program in 2020
The DAAD Artists-in-Berlin Program awards internationally highly regarded fellowships. Since 1963, over 1000 outstanding international visual artists, authors, filmmakers, composers, and sound artists have been invited to live and work in Berlin. As part of its long-term support of artists, works by current and former guests are presented at the daadgalerie in Kreuzberg as well as at partner institutions in Berlin, around Germany and also abroad.
I am no longer on Instagram with a personal account for several reasons (personal, professional and artistic). But now I have this new "professional account" - mahmoudkhaledstudio which acts as an extension of my website. Please, click and follow it if you are interested.
Most recent:
-------------------
&
On show now as part of
17. 7. - 1. 9. 2019
Together with Rah Eleh (Canada), František Fekete (Czech Republic), Ayqa Khan (United States), and Joshua Vettivelu (Canada)
curated by: Noor Banghu (Canada)
Digitalia is a guest-curated exhibition of multi-media work, deliberating on the use of social media as both an accessible art form and cultural landscape. The exhibition is curated by Noor Bhangu and features work by Rah Eleh (Canada), František Fekete (Czech Republic), Mahmoud Khaled (Egypt), Ayqa Khan (United States), and Joshua Vettivelu (Canada).
This exhibition takes as a possible starting point the concept of "digitalia," coined by the Canadian film critic, Cameron Bailey, to speak on the convergence of genitalia, marginalia, and wires. Bailey used the concept to interrogate ways in which bodies perform their gender, race, sexuality, and disability through the virtual sphere. "Digitalia," as a theoretical concept and organizing principle, works to dislodge popular, and accepted, notions of the Internet as a neutral or neutralizing space whose disembodied system is not programmed to recognize embodied difference.
The exhibition will feature multi-media and multi-perspectival work offering various entry points into the question: if the virtual is always allied with disembodiment, what are the options for bodies that think and perform otherwise? By way of inquiry, Digitalia will employ social media sites, primarily generated by user content – Tumblr, Instagram, Youtube, and porn archives – as portals to witness the ways in which embodied subjects embroil themselves into the virtual fabric through their enrolment as active participants.
Sunday 9 September 2018 – Sunday 6 January 2019
at Witte de With Center for Contemporary Art, Rotterdam, Netherlands
Curated by Sofía Hernández Chong Cuy, Samuel Saelemakers
Solo show at Helena Anrather Gallery - New York
Opening reception 14 September
14 September - 4 November 2018
A NEW COMMISSION FOR AN OLD STATE
Solo show at Gypsum Gallery, Cairo
Opening reception 7 March, 7-9 pm
7 March - 18 April 2018
A Memorial to Failure. 2013
Curated by Yiannis Toumazis
Opening: Friday 7 April 2017, 20:00
at NiMAC/Nicosia Municipal Arts Centre
Participating artists and theorists: Ana Adamović, Marwa Arsanios, Sofia Bempeza, Banu Cennetoğlu, Marianna Christofides, Kyriaki Costa, Βassam El Βaroni, Silvia Giambrone, Hackitectura, Lia Haraki, Elizabeth Hoak-Doering, Eleni Kamma, Serap Kanay, Nurtane Karagil, Mahmoud Khaled, Zissis Kotionis, Mona Marzouk, Panayiotis Michael in collaboration with Pascalle Burton, Isabel Carvalho, Peter Eramian, Erden Kosova, Flavia Malusardi, Iordanis Papadopoulos, Christopher Rey Pérez, Maria Petrides and Liv Strand, Yael Navaro and Emrah Gokdemir, Erkan Özgen, Christodoulos Panayiotou, Despo Pasia and Antonis Hadjikyriacou, Polys Peslikas, Alexandros Pissourios, Ran Slavin, Neoterismoi Toumazou, Evi Tselika, Paola Yacoub and Michel Lasserre
Seagulls Are Flying Close to the Ground
Glass mosaic sculpture, tromps l'oeil wall painting. Dimensions variable
Commissioned by Sharjah Art Foundation.
13th Sharjah Biennale, Tamawuj - Curated by Christine Tohme
10 March - 12 June 2017
Until November 20, 2016
Terra Mediterranea: In Action
Curated by Yiannis Toumazis and Michael Arzt
HALLE 14 – Centre for Contemporary Art, Leipzig

Photo: HALLE 14, Leipzig | Walther Le Kon
"This show is My Business", 2008
at Centre Pompidou Málaga
Until November 13, 2016
on show as part of "MOVE"
Curated by Charlène Dinhut
Artists:
Breda Beban, Zoulikha Bouabdellah, Safaa Fathi, Danya Hammoud, Jonas Joan, Mahmoud Khaled, Mehdi-Georges Lahlou, Yasmine Al Massri, Youssef Nabil, Alexandre Paulikevitch and Nil Yalter
New performance for Frieze Live , London- Gypsum Gallery
6-9 October, 2016
A New Commission for an Old State
August 18–October 23, 2016
Solo Show
Edith Russ Haus, Oldenburg, Germany
Liste - Art Fair Basel
June 14 -19, 2016 - Gypsum Gallery
Doa Aly & Mahmoud Khaled
Syntax and Society
The Abraaj Group Art Prize 2016
From March 15 to 19, 2016
Art Dubai
Curated by Nav Haq
Syntax and Society
The Abraaj Group Art Prize 2016
Nav Haq (Ed.)
Contributions by Basel Abbas & Ruanne Abou-Rahme, Dina Danish, Clare Davies, Nav Haq, Rabeya Jalil
A two-volume set is published on the occasion of the 2016 exhibition "Syntax and Society" at Art Dubai. Nav Haq, curator of this year's prize, presents commentary in both volumes to offer an insightful guide to the practices of these artists.
Click here to read Clare Davies's text
Design by Pieter Boels

March 2016, English/Arabic
19 x 24.7 cm, 264 pages, 101 color ill., softcover
ISBN 978-3-95679-230-4
€26.00
'Proposal for a Porn Company'
February 20 to March 19, 2016
Videobrasil Collection in Context
Galpão VB | Associação Cultural Videobrasil São Paulo
Featured in a new book Published by MIT Press
From Whitechapel: Documents of Contemporary Art
Queer
Edited by David J. Getsy
"The Non-Located Space - Conversation with Omar Kholeif"
Artists and writers include
Nayland Blake, Gregg Bordowitz, Leigh Bowery, AA Bronson, A. K. Burns, Giuseppe Campuzano, Tee Corinne, Barbara DeGenevieve, Dyke Action Machine!, Elmgreen & Dragset, Rotimi Fani-Kayode, Simon Fujiwara, Malik Gaines, Felix Gonzalez-Torres, Gran Fury, Sunil Gupta, Hahn Thi Pham, Harmony Hammond, Sharon Hayes, Hudson, Roberto Jacoby, Derek Jarman, Isaac Julien, Mahmoud Khaled, Zoe Leonard, Lesbian Avengers, Catherine Lord, Ma Liuming, LTTR, Allyson Mitchell, Zanele Muholi, Carlos Motta, Ocaña, Hélio Oiticica, Catherine Opie, Ridykeulous (Nicole Eisenman & A.L. Steiner), Marlon Riggs, Emily Roysdon, Prem Sahib, Assoto Saint, Tejal Shah, Amy Sillman, Jack Smith, Wolfgang Tillmans, Toxic Titties, Danh Vo, David Wojnarowicz, Wu Tsang, Yan Xing, Las Yeguas del Apocalipsis, Akram Zaatari, Sergio Zevallos.
From Experiments in Art and Technology to Art after the Internet
Published by Whitechapel Gallery
Edited by Omar Kholeif
Accompanying a landmark exhibition at Whitechapel Gallery, this catalogue explores the impact of computer and networked technologies on artists from the mid-1960s to the present day.
Beginning with US artists Robert Rauschenberg and Robert Whitman's 1966Experiments in Art and Technology (E.A.T.) with Bell Laboratories engineers (followed the first network experiment linking two computers in 1965), and including new and rarely seen multimedia works, film, painting, sculpture, photography and drawings by over 70 artists such as Cory Arcangel, Roy Ascott, Jeremy Bailey, Judith Barry, James Bridle, Constant Dullaart, Oliver Laric, Vera Molnar, Trevor Paglen, Nam June Paik, Ryan Trecartin and Ulla Wiggen, this timely publication tells the story of an interconnected global visual culture marked by mass social and political change.
Fully illustrated in colour, the book will include essays by curator Omar Kholeif, Ed Halter (Director at Light Industry, New York) and Erika Balsom (Senior Lecturer at Kings College London); conversations between pioneering video artist Judith Barry and Sarah Perks (Artistic Director: Visual Art at HOME, Manchester), and between musician and media artist Dragan Espenschied and Heather Corcoran (Executive Director of Rhizome); and newly commissioned artist interviews with Ulla Wiggen and Jonas Lund by Séamus McCormack (Assistant Curator, Whitechapel). The catalogue will also feature a sequence of artist interventions from Douglas Coupland.
Paperback, 272 pages, 297 x 200 mm
200 colour illustrations
ISBN 978-0-85488-246-5
First published 2016.
Two days program in Alexandria led by Mahmoud Khaled on November 16-17, 2015. (in Collaboration with Magda Magdy)
In the context of Christodoulos Panayiotou's show Two Days After Forever at the Venice Biennale's Cyprus Pavilion,
For this two-day happening, Mahmoud Khaled returned from his studies abroad to lead a psychogeographical tour using his own art education in Alexandria as a starting point. This exploration of once-spectacular, now neglected sites frequented by Alexandria University Fine Arts students stems from his ongoing research into state-run sites in the city, with their contentious political histories. Through readings, Khaled considered the city's significance for artists, writers and filmmakers and asked if the imaginary form of the city has now fallen into an endless loop of loss and nostalgia, melancholy and romanticism.
Links & Texts: